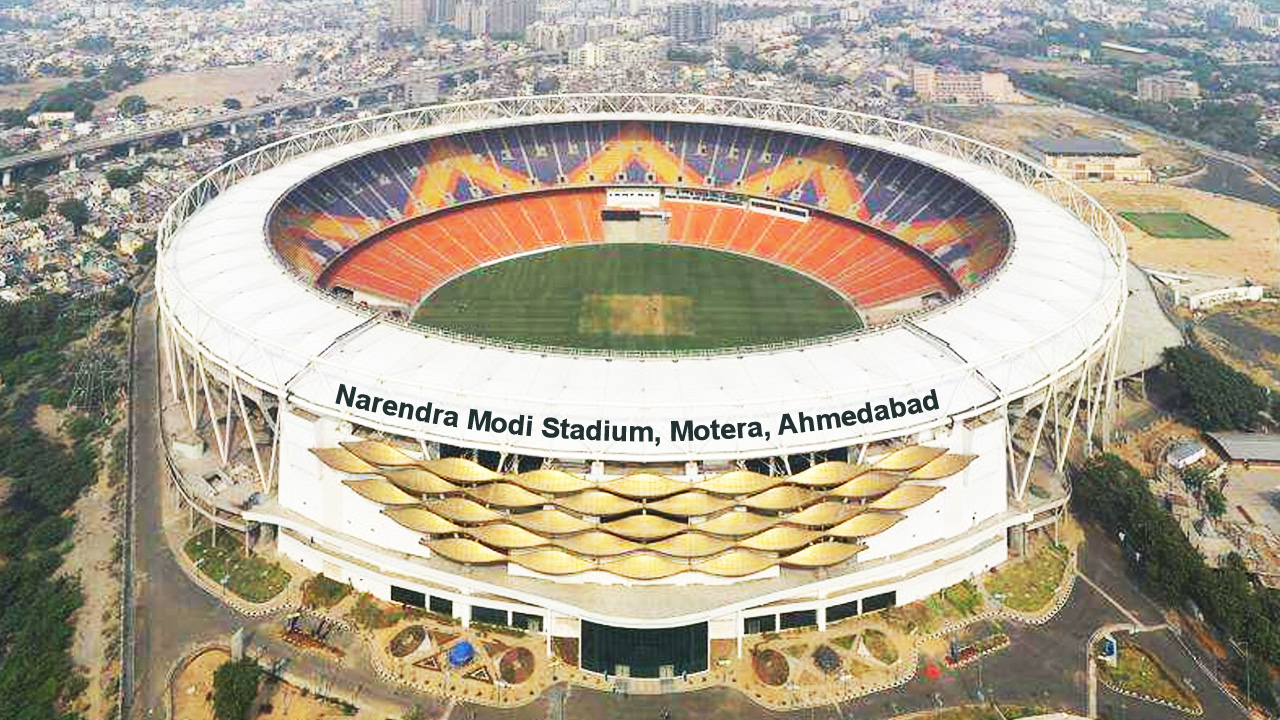 Narendra Modi Stadium, Ahmedabad Profile
Located on the banks of the Sabarmati river of Ahmedabad, Narendra Modi Stadium is one of the premier cricket stadiums of India. Narendra Modi Stadium is the Largest Cricket Stadium in the world with huge seating capicity of 1,32,000 spectators. Formerly known as the Sardar Patel Stadium, the ground was renamed on 24th February, 2021 as Narendra Modi Stadium the Prime Minister of India. In the inauguration ceremony, Honorable Indian President Ram Nath Kovind and Indian Home Minister Amit Shah with Deputy Chief Minister of Gujarat Nitin Patel were present on this memoriable occassion to do the honor.
Because of its location, the stadium is commonly called 'Motera Stadium'. Sardar Patel stadium is owned by Gujarat Cricket Association and comes under the aegis of the West Zone. It is equipped with floodlights for day-and-night games and is a regular venue for Test cricket, One Day and twenty20 Internationals matches.
The new stadium Narendra Modi Stadium was built after the old Sardar Patel stadium, with a seating capacity of 53,000, was pulled down in 2015. The foundation stone had been laid in January 2017. The Motera stadium was designed by M/s Populus, the architecture firm that designed Australia's Melbourne Cricket Ground. The stadium is built at a cost of Rs 800 crore.
After renovation, the new Sardar Patel stadium will be the biggest cricket ground surpassing the Melbourne Cricket Ground's capacity of 1,00,000 people. The new Sardar Patel stadium Spread across 63 acres, the 1,32,000-seat capacity is almost double that of its old capacity. The stadium's parking can accommodate over 4,000 cars and 10,000 two-wheelers.
The seating bowl, according to the stadium's main architect, provides each spectator with a full unobstructed view of the field. Apart from this, the seating bowl also has 76 corporate boxes with seating capicity of 25 each, four-team dressing rooms and associated facilities, a state-of-the-art club and an Olympic-size swimming pool. Four team dressing rooms with associated facitilies, six indoor practice pitches and three outdoor practice fields are huge features of Narendra Modi Stadium.
The stadium has been witness to some memorable Indian feats - Sunil Gavaskar got to his 10,000 Test runs here, against Pakistan in 1986-87, and seven years later, Kapil Dev nailed his 432nd victim to go past Richard Hadlee as Test cricket's leading wicket-taker in 1994 and Sachin Tendulkar became first batsman to score 30,000 runs in international cricket in 2013.
1st International match after renovation was played between India and England (Day-night match) pink ball test mach on 24th February, 2021. India registered comprehensive win by huge margins of ten wickets just in two days. Local boy Axar Patel cialmed eleven wickets in the match and declared man of the match for his wonderful bowling performances.