Match 23 : KKR vs GL Post Match Report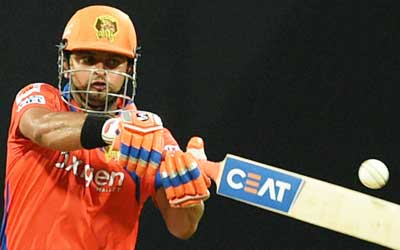 April 21, 2017
VIVO IPL 2017 season 10 23rd encounter between Kolkata Knight Riders vs Gujarat Lions Rajkot at Eden Gardens, Kolkata on April 21, 2017 at 8:00 pm. Putting into bat first by Gujarat, Kolkata managed to score 187 runs in 20 overs with RV Uthappa's 72 runs. Gujarat in reply chase the given targrt in 18.2 overs and won the match by 4 wickets. SK Raina daclared man of the match for his superb 84 runs.
Gujarat Lions won the toss and elected to field first and let Kolkata to set target to get. Kolkata made firing start with SP Narine and G Gambhir initially. Specially, Narine cameo was delighted to watch in first 5 overs. He smashed 42 runs of just 17 balls with 9 fours and 1 six in his excellent inning. RV Uthappa joined with skipper and played once again splendid inning of 72 runs and put Kolkata on good total of 187 runs in 20 overs.
Following target of 188 runs, Gujarat also got firing start with AJ Finch and McCullum as well. AJ Finch also played super quick inning of 31 runs of 15 balls and gave Gujarat excellent start. BB McCullum also played good inning of 33 runs before lost his wicket. Skipper SK Rain took the charge in hand and played useful inning as captain and contributed well 84 runs of 46 balls before left the field. Gujarat middle orders did the rest and achieved given target in 18.2 overs and won the match by 6 wickets.
Player of the match - SK Raina (GL)
Points - Gujarat Lions 2, Kolkata Knight Riders 0.